Furniture design software DESIGN SINTEZ
Installation and configuration
System requirements:
Processor Dual-Core.
Operative memory 2 GB.
Free disk space minimum 5 GB
Monitor Resolution 1280 x 768.

Microsoft Office 2013 and 2016

. The product is compatible with

LibreOffice

and

OpenOffice

, too.
Recommendatory AutoCAD 2010 for 32bit Windows. For WINDOWS 7 - 64bit need to install AutoCAD 2014, 2015,2018, 2020,2021 and 2022 for 64 bit Windows.
OS

Windows XP, WINDOWS 7- 32bit and 64bit , Windows 8/8.1 64bit

or

Windows 10 64bit

.
Software Installation
Before install this product, you have to install AutoCad 2009 or next versions on your computer. You have to make a full installation.
You must have minimum 1GB free disk space for full installation. Open a file "DS_INSTALL_FULL.EXE" and the automatic program installer will guide you step by step. Define installation parameters. The software is already integrated on AutoCad environment . It activates automatically at its opening.
Attention: After uninstall not registered copy of the program second installation is impossible.
Attention: During uninstall can be lost some of original settings in a configuration of AutoCad.
You have to change the decimal symbol. Windows by default sets comma. Change a comma to a point..Open Control Panel (button Start - > Settings - > Control Panel). Activate Regional Settings. In page Number into the field Decimal symbol change a symbol on "." (Point). Press Ok to set changes in the Windows settings.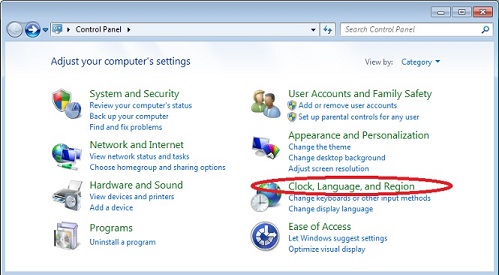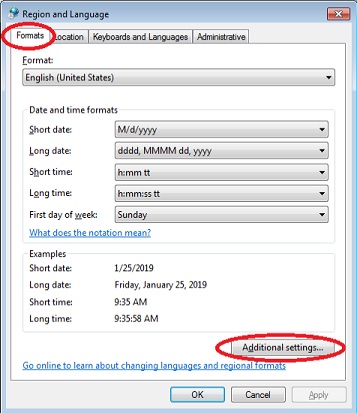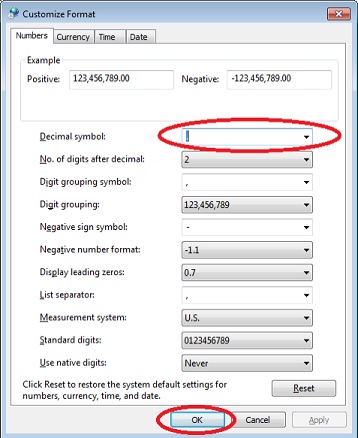 Registration

The actuality of the entered code checks by the button " Check code ". If you have not entered a correct code, you have about 30 days the free-of-charge period with completely working program modules. After this period the software will be inactived.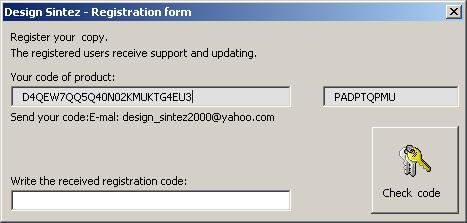 Irrespective of status of your copy (registered or not registered ) after reinstallation of OS at the following program installation, the protection will be activated, requiring entering of a registration code. In such situations you have to connect with the producers of the product for elimination of the problem.
If you are already registered user, but because of some reason you have uninstalled it, you can install it without any problems again. All created jobs will be kept (if they were not saved in an install directory only). The program establishes your previous registration and does not require new registration code.
Attention:If you receive registration code after the end of the free-of-charge period for work by the program, enter code and install the product again.
AutoCad configuration
| | |
| --- | --- |
| | This window opens after of Design Sintez and at first opening of AutoCAD. The system will find the made changes and having in view the eventual danger from viruses, AutoCAD will require you to confirm start of Design Sintez. Press button Enable Macros to activate the program and remove an opotion Always ask before opening projects with macros for not to confirm at each opening of AutoCAD . |
Note: For AutoCAD editions , higher than 2000 (2009 etc.), template is loading automatically at program starting.
Printer settings
The template is saved on your computer during installation. It contains an information for the printer, on which you will print the drawings. Loading of a template at each opening of new job, you set the printer, given in it as current by default. The probability for its concurrence to yours is small, therefore is necessary to save a template again after establishment of your printer as current. Open Horizontal menu---> Operations ---> Open drawing. From the drop-down list Files of type: select file extension Drawing Template File (*.dwt). Specify the file index in a directory C:\Program Files\Autodesk\AutoCAD 2014\TEMPLATE\Sintez_2011_64.dwt , sellect it and load.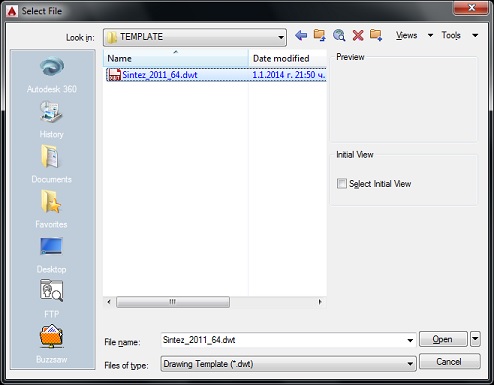 In window Plot select a printer from the list Name: printer (installed for your Windows). Specify the size of sheets for printing: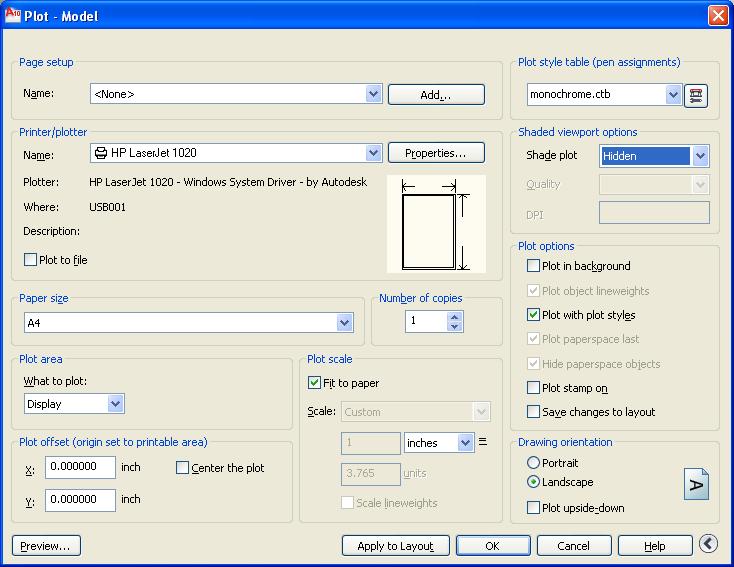 When printing the planimetric lines of units, it will be with colours of a respective layer, coloured. For black - white printer turn out the nuances of gray.
If you want the planimetric lines of units to be only in black, in section Plot style table select monochrome.ctd.
The selected view (view top, perspective etc.) will be saved. The visibility of the units (Hidden mode or Wireframe, etc.) is adjusted only for current printing in the secton Shaded viewport options ---> drop-down list Shade plot. Here, if you want to print the drawing in hidden mode, select Hidden item. When saving the template is recommended that option is not selected.

TAfter a selection of printer by default, sheet size and kind of printing, press the button OK to print, independently that you are in a template file (this makes to set changes in system). Save a template (Horizontal menu---> Operations --->Opeatins with drawings---> Save drawing).
ATTENTION! When the template file is open, do not add units in it and do not change settings of rendering.